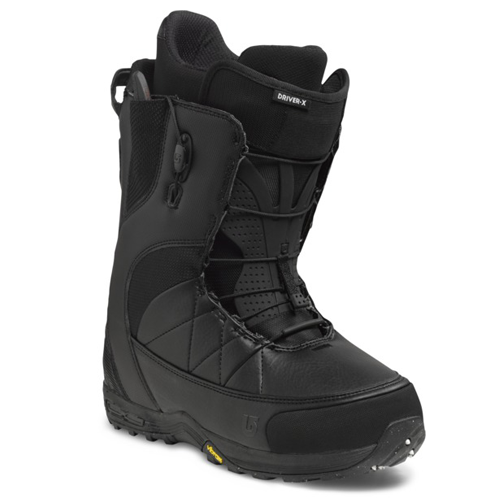 Burton Driver X Snowboard Boot
The Burton Driver X Snowboard Boots are designed to be the most surefooted and responsive boot on the market. Made for riders who hike, split, sled, or guide, the Driver X has an extremely stiff flex to provide the most support while pushing the limits of snowboarding as a whole. Despite the aggressive nature of the boot, its is still very warm and comfortable thanks to its Imprint™ 3x liner and Vibram® EcoStep™ rubber outsole. If you charge harder than an angry bull listening to Black Sabbath, the Burton Driver X boots are for you.
Flex
Flex Rating: 10 (1 Softest - 10 Stiffest) – The stiffest flex possible for superior control while shredding the hardest lines on the mountain
Rider Adjustable Flex Tongue Insert – The RAF Tongue Insert lets you customize the forward flex, increasing the support, response and life of your boots.
Lightweight Power Panels – To ensure consistent flex from day 1 to 100, this boot features strategically placed Power Panels that return to their original position even after being deeply flexed. Extra tall for added support on Imprint 3x liner
Power Up Firm Flex Thin Profile 3D® Molded Tongue – Adjusting the profile of the tongue's thickness controls its flex, enhances its ability to wrap, and reduces shell / liner stack-up for improved comfort.
Fit
Total Comfort Construction – Get an instantly broken-in feel right out of the box. Total Comfort's industry-exclusive construction eliminates the break-in period for a fit that feels just as good from opening day to day 100.
Liner
Imprint™ 3x liner
Aegis™ Antimicrobial Coating – This technology stops your feet from smelling so bad that your dog won't even greet you when you get home.
Rad Pad – The pad is located on the top of your instep, right where the internal laces exert the most pressure, a Rad Pad has pre-curved panels for extra comfort, support and long-wear.
Tuff Cuff with Velcro® J-Bar Interface and Inner Lace Lock – Ankle support and inner cuff stability is mandatory in a pro-level boot. Burton's solution is the Tuff Cuff, which increases heel hold and wraps the ankle with medial and lateral support while still flexing freely from toe to heel. Quick-Lock design keeps your heels locked down all day. Exit''s a cinch with the one-handed release tab.
Heat Moldable – Whether you have funky cankles or a grotesque sixth toe, your feet will be wrapped with comfort in this boot. Ride them right out of the box or shape them to your foot with Burton's EMU heat-molding system, found at your local shop.
Sock Lock – This directional fiber lining allows your feet to easily slide into place and stay in place from first chair to last call.
VELCO® liner closure
Lacing System
Speed Zone™ Lacing – Lightning fast lacing control at its finest. Customize the fit of the upper or lower zone in seconds; because the system is so powerful, you get more rebound, more wrap and better response, all with less effort.
Footbed
Level 2 molded EVA footbed with ESS Support Shank
Sole
Vibram® EcoStep™ Outsole – Get the legendary grip and feel Vibram® is famous for in a lighter weight, 30% recycled (EcoStep™) construction. Includes the added cushioning of dual zone EVA and B3 Gel in the heel and toe.
Rubber Ice Spikes – Soft and grippy with stiffer spikes that dig into ice when slipping isn't an option
Shrinkage Footprint Reduction Technology – This reduces the boot's overall footprint on full size, meaning a men's size 10 fits like a size 10, but has the footprint of a typical size 9. Shorter, lighter, sleeker - never suffer from toe drag again.
Additional Features
Snow-Proof Internal Gusset – All Burton boot tongues feature an internal gusset construction to completely seal the lower zone of the boot, keeping your feet warm and dry.
Super grip toe
Eco-friendly shell material
343 €
Purchase in e-shop